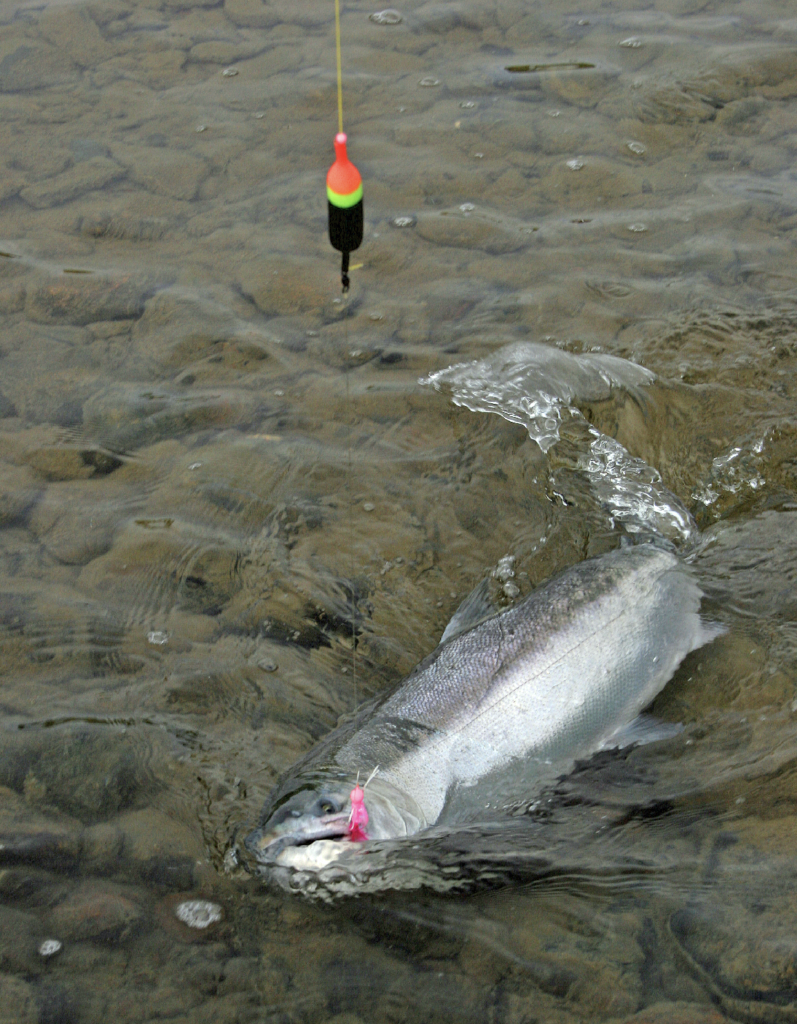 Of all the methods we use to catch coho salmon on the Egegik River, the most diverse is with a bobber and jig. There's no other approach that allows for so much water to be covered while standing in one spot. Because the jig rides a foot or so off the bottom, hangups are rare, meaning you lose little gear and your time is spent fishing, not retying lost tackle.
There are multiple ways to rig a float fishing setup for coho, and this example is simple and effective. On to 30 pound braided mainline, slide a bobber stop (nylon nail-knot), followed by a 3mm bead, then an in-line float. Pline and Thill make great floats for this setup. The bobber stop is your depth regulator that, when snugged tight to the mainline, won't slide up and down the line. The bead keeps the bobber stop from passing through the float as the terminal gear sinks. Tie the mainline to a size 7 barrel swivel, then a two-foot monofilament leader with your jig on the other end of the swivel, and you're set.
Leader length can vary when jig fishing. In shallow spots, having the jig 5-inches below the surface is effective; in deeper holes it may be 10-feet below the float.
The aforementioned setup is preferred due to its ability to allow for quick depth changes. Slide the bobber stop up or down the mainline to however deep you want to fish, and you're set. There's no worry of casting a long leader with this setup, which can pose problems when wading deep or fishing along brush-lines, because the bobber stop is reeled through the guides onto the spool if fishing deep water. This is the setup of choice when fishing a range of depths from one position.
If fishing shallow streams with boulder patches or scattered deep holes and shorter, deeper runs, consider using a fixed-float setup. The purpose of this setup is to get the jig down quickly into the strike zone. Go with the same mainline, but instead of using a bobber stop and bead, use a Maxi Float. This float is threaded on to the mainline through wire loops on the top and bottom.  A 1/4-inch section of rubber tubing holds the line tight to the float on both the top and bottom. In this setup the float is the depth regulator as there is no bobber stop. This is a great setup when fishing in two to seven feet of water.
When fishing jigs, a rule of thumb is to match the weight of the jig with the weight of the float. If fishing a 1/8-ounce jig, use a 1/8-ounce float. Listed float weights indicate how much weight they are designed to support, not their actual weight.
In some small Alaskan streams, a 1/16-ounce or 1/32-ounce jig fished beneath a 1/16-ounce float works very well. A favorite setup is a 1/8-ounce jig and float, which works virtually anywhere in Alaska.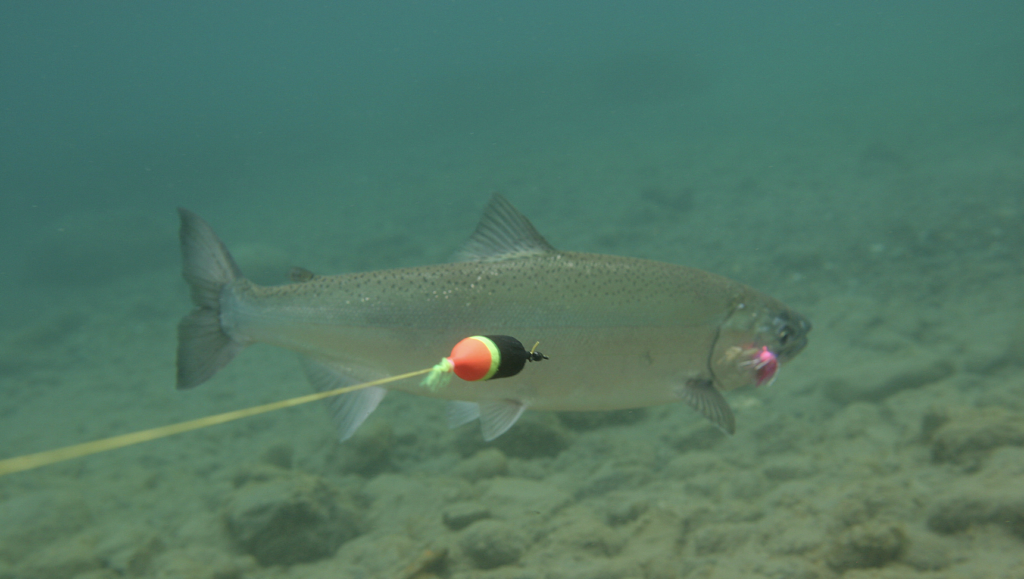 As for jig colors, pink is hard to beat when it comes to targeting silver salmon. Jigs with brightly painted heads to match or offset the color of the body, are a good color combination choice. Have a range of pink colors and don't be afraid to use them. Chartreuse, purple, red and orange are also be good colors to have in your box.
When jig fishing with a sliding bobber setup in big rivers, a G. Loomis GL2, model STR 1265S is a good rod to have. This 10'6" rod offers a moderate action, supports 10-20 pound test line and weights of 3/8-1 1/2 ounces. Paired with a Shimano Symetre 4000 reel spooled with 30 pound Maxcuatro braided line, it's a very efficient setup. The long rod is perfect for aggressive mends on big water, which is key to effective jig presentations. These are good specs' to go by.
When targeting fish in small streams, where a Maxi Float is set at a fixed depth, a smaller rod like a G. Loomis STR1163-25, which is a 9'8" medium-light rod featuring a fast action, is a good choice. It's rated for 6-12 pound test line and supports 3/8-3/4 ounces. Teamed with a Shimano Stradic CI4 3000F reel spooled with 30 Maxcuatro (which has a 6 lb. diameter), the setup is ideal for float fishing smaller streams.
The key with float fishing jigs for coho salmon is having the jig, float and floating mainline all moving downstream at the same rate. If the bobber is riding straight up and down, that's perfect, as it means the jig is running at a natural rate and at a uniform depth.
The more you experiment with a bobber and jig, the more you'll realize how diverse the approach truly is. You'll also discover the wide ranger of water that can be covered, which equates to more silver salmon being caught.